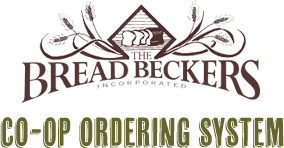 | | | |
| --- | --- | --- |
| 9/28/2023 | Pay directly to Bread Beckers - CREDIT CARDS ONLY | Read More |
What is a co-op?
It's a group of people that pool their individual orders together, to take advantage of lower shipping rates, and discounts on certain food items.
How does a co-op work?
Members place their orders on line. When each ordering cycle starts, the co-op system sends an email to each registered member letting them know its time to order. Members log in and place their own order. The co-op coordinator oversees the process, and when the ordering cycle closes reminds everyone to send payment in (to the coordinator). About 4 weeks later, The Bread Beckers will deliver (or ship) the order; the coordinator receives the total order at a specified drop location.  Once the order is delivered and accepted, the co-op members can get their individual orders.
What's the advantage of being in a co-op?
Reduced shipping rates, and reduced pricing!  For instance:
Order placed by an Individual, to be picked up or shipped directly from Bread Beckers
Discount Applied to "Qualified" Food Purchased: None Applied
Order placed by an Individual through one of our co-op coordinators
Discount Applied to "Qualified" Food Purchased ($299.99 or less): 5%
Discount Applied to "Qualified" Food Purchased ($300 or more): 10%
NOTE: A few items such as Honey, clearance/sale items, and a few other food items are not discounted. Also, machines, books, bakeware, cookware etc. are not discounted. The discount applies to food items only, mainly the bulk items like grains, beans, and things in 50 lb bags.
Site by Greybeard Design Group NEW SERVER